AKC Community Canine / Therapy Dog Training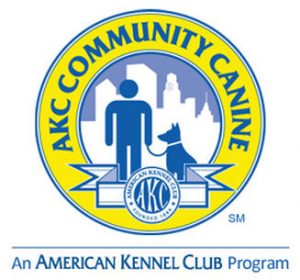 AKC Community Canine is the advanced level of AKC's Canine Good Citizen (CGC) program. AKC Community Canine has a 10-step test of skills that dogs must pass to earn the official AKC Community Canine title. This is a title that appears on the dog's title record at AKC.
While Canine Good Citizen tests are simulations of real world skills, (e.g., dog/handler walks through a "crowd" of evaluators in a ring), the goal of AKC Community Canine is to test the dog's skills in a natural setting. For example, rather than the dog being tested in a ring, in AKC Community Canine, the "walks through a crowd" test item will involve the dog walking through a real crowd at a dog show, on a busy sidewalk, in a therapy dog setting, or at a training club.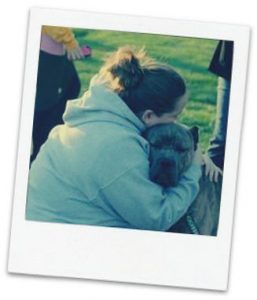 To earn the AKC Community Canine title, dogs must meet the following two requirements: • Must already have a Canine Good Citizen (CGC) award or title on record at AKC. • Must have an AKC number of one of 3 types (AKC registration number, PAL number, or AKC Canine Partners number). All dogs, including mixed breeds, can get an AKC number. The reason for the AKC number requirement is that this is how we create titles at AKC; we attach the titles to the dog's number.
For more information on getting an AKC number, see: https://images.akc.org/cgc/number.pdf
Therapy Dog The primary objective of a therapy dog and handler is to provide comfort and companionship by sharing the dog with the patients in hospitals, nursing homes and other institutions and wherever else the Therapy Dog is needed. This is done in a way that increases emotional well-being, promotes healing, and improves the quality of life for the people being visited and the staff that cares for these people.
Students with dogs under a year that take this class may take their AKC Community Canine can then be evaluated for therapy dog work at the time dog turns (1) Year of Age. We accept Jr. Handlers (13 years and older) in our AKC Community Canine/Therapy class.
We accept all pure or mixed breeds in AKC Community Canine/Therapy Dog classes.
Classes meet weekly at dedicated locations to insure training with distractions and in populated areas to insure passing of a team's therapy test.
Cost is $ 125 for class price included testing fee for AKC CGC
Private Board and Training program available for Therapy potential dogs.
CLICK PLAY – To view the Video
"Walsh University students got to de-stress during finals week with the help of
two Italian Mastiff Cane Corsos, "Quera" & "Jhon", and English bulldog "Peanut".
Video and Article from Patch.com


WAGS DOG
TRAINING